15Apr3:48 pmEST
Interesting Spot for Netflix Into Earnings Tonight
Although I am not much of an earnings gambler, I do think it is interesting to see NFLX right back to its prior highs as it heads into earnings after market close tonight. The weekly chart, below, illustrates as much. Perhaps the stock is in a holding pattern and will use the report as an excuse to gap above or below this critical level.
Netflix is still, for all intents and purposes, a marquee name in the tape with plenty of institutional sponsorship and thus merits watching even if not trading it specifically.
Be sure to catch my video market recap after the bell where I will flesh out Market Chess subscription service features and pricing. The services will launch tomorrow evening with a one-time discount to the first sign-ups.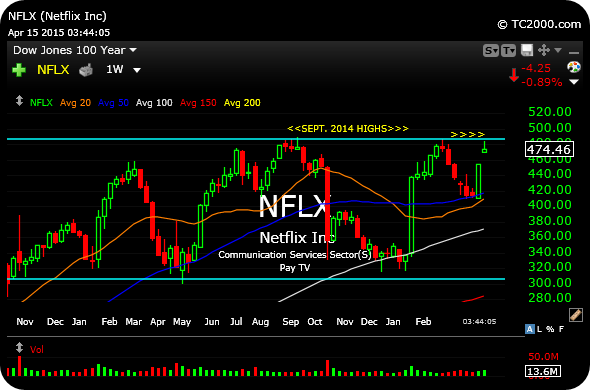 Down to a Runner; Chess Move... Stock Market Recap 04/15/15 ...