22Jun3:43 pmEST
Turnaround Time for This Brand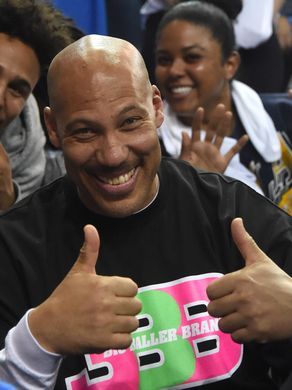 Coinciding with the NBA Draft tonight, and likely Los Angeles Lakers' pick Lonzo Ball (alongside his outspoken and enterprising father, Lavar Ball, seen above, founder of the "Big Baller Brand") seeking to turn around the lowly Lakers' fortunes to revive the old tradition, BlackBerry reports earnings tomorrow morning before the bell.
BBRY is turnaround play we have been tracking for Members in recent months, playing it on the long side previously, too.
As we noted before, despite how enticing the name has become on shorter-term timeframes like the daily chart, the $11 level was likely to be an issue, long-term.
And headed into earnings that continues to be the case, as seen on the monthly chart, below.
Mind you, the $11 area does not guarantee a top or anything close to it, especially considering the improved price action of late. But we should find out whether BBRY is a contender to revive its own prior leadership status as a cutting edge tech play in the market (consider their new business angles in the "smart grid," for example), or instead is merely a pretender which will be dead money, again, or even worse.
One thing is for sure--Tomorrow morning's earnings report and reaction is the first major test for BBRY since it woke up in late-March...and it's most important one in possibly years.