25Jul11:40 amEST
The Great Energy Tug-of-War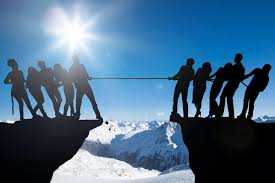 Last week we charted, on several occasions, various bullish inverse head and shoulders bottoms in the energy sector, be it the USO ETF for crude itself or the XOP ETF for exploration firms.
But we can chart as many of those as we like at this point.
The real crux of the issue is how the market sorts out the tug-of-war taking place between obvious supply issues (bullish for oil and gas) versus the murky outlook of the economy and, thus, the demand side of the equation.
If the market arrives at the conclusion that a 2008-style deep recession is imminent then most bets are off for energy stocks in all likelihood. That said, and I want to be clear about this, I have high conviction over the course of this decade that energy and various commodity stocks will rebound the fastest from bear market bottoms and most likely be broad market leaders into the next cyclical bull market. In other words, I am convicted the supply issues are entrenched in addition to the cheap valuations for many energy stocks which continue to be misplaced for an energy bull run.
On the other hand, if the economy is about 6-12 months away from a deep recession then oil and energy stocks have room to rocket higher, especially given the sheer amount of skepticism I see out there doubting the sustainability of a commodity bull run from here. Indeed, fund managers may even chase up energy into the end of the year if they need to play catch-up and markets are not crashing.
Overall, these are the battle lines as I see them. If crude climbs back over $100 if may very well be a sign that all of the recession talk, SPR draining, meetings overseas with the Saudis, and other gambits to crush oil and gas did not work and the pain trade would still be higher.
For now, the USO and XOP are holding steady on the right shoulders of those inverse head and shoulders bottom. In fact, they are among the leaders today as the market awaits major earnings this week and, of course, the FOMC where Powell is expected to raise by 75 basis points.
Weekend Overview and Analysi... You're Either Natty or You'r...