24Jul12:38 pmEST
Aiming at the Same Target
A recurring thesis covered in the full-length Member videos inside Market Chess Subscription Services has been the confluence of the 2100 (big, round number) level on the S&P 500 Index along with the 50-day simple moving average (dark blue line).
Our thesis has been that too many market players have assumed this area would serve as support, perhaps complacently so. Recall that "support" is only potential support until buyers actually present themselves in a meaningful way, despite how this bull market has conditioned many new traders.
Thus far, a seemingly benign pullback on the S&P has yet to find firm footing, as small caps lag and several earnings beats by major name have yet to prep the S&P up and out of its well--defined range.
Thus, some competing forces to watch are the recent AMZN V gaps higher versus the BIIB gap lower, the SWKS reversal, and AXP DFS continuing to weaken after earnings. It is, of course, nowhere close to a bear market. But upside momentum continues to wane and compel traders to focus on defense more than offense.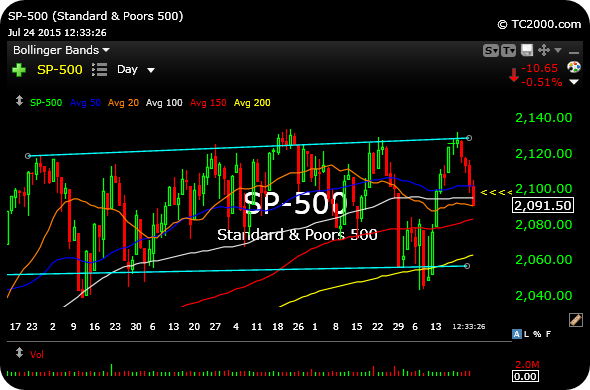 Stock Market Recap 06/15/15 ... A Sneak Preview of the Next ...