13Aug12:35 pmEST
Who is Flying the Energy Plane?
Crude oil continues to plunge, unable to hold what could have easily been an overdue snapback rally yesterday, amid energy stocks rallying and bullishly diverging for several days now.
And, yet, the action is scatterbrained today, with XOM green, while COP is down nearly 3%, for example. Moreover, the glaring laggards from yesterday, such as BAS CHK, continue to flash red warning signs.
Indeed, the issue for the energy sector at-large remains, simply put, whether things will get worse before they get better. In other words, we may need to see a few meaningful bankruptcies before a durable low is in place in the sector.
While I would be amenable to playing a rally in energy on the long side, bounces have been short-lived and without much follow-through. And, of course, crude itself has ignored the energy stocks diverging of late.
To my eye, the crude ETF, below on the daily chart, would still be best served at this point with a cathartic washout in order to get close to a tradable low. Just as with metals and miners from a few weeks back, we would be looking for a change in the angle of descent, denoted by the light blue line.
But with energy stocks failing to bring up crude, thus far, it does beg the question as to who is truly flying the energy plane.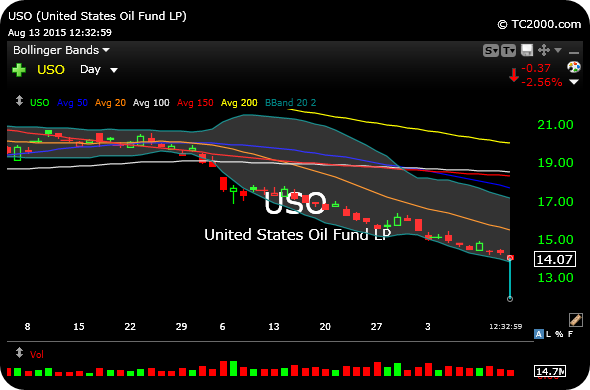 No Easy Way Out of This Town Talk is Cheap and Overtradin...