06Sep7:03 pmEST
Sunday Evening at Market Chess Cinemas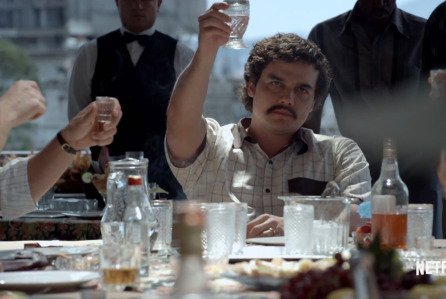 A later-than-usual Labor Day weekend recommendation, let's focus on the present and a terrific new show.
The Netflix original series, Narcos, is easily one of the best shows I have seen in a good while--Netflix immediately renewed it for a second season. And I would go so far as to say that it is worth subscribing to Netflix if for no other reason than to view it.
The show takes a gripping look at real-life Colombian drug lord, and criminal legend, Pablo Escobar, played masterfully by the Brazilian actor, Wagner Moura (pictured above). In addition, Boyd Holbrook strikes just the right note as the "gringo" DEA agent playing a major role in tracking Escobar and his schemes.
While it has only been one season, Narcos has a certain smoothness to its storytelling, which is remarkable. The series could have easily gone down the path of being just another cop versus bad guy show, but instead chose to approach the characters with more depth. I hope they follow-through next season in the same manner.
But this is an auspicious beginning, worthy of you viewing it soon.
Stock Market Recap 09/04/15 ... Weekend Overview and Analysi...