14Dec9:54 amEST
A Straightforward, Technical Trade
To follow-up on an open trade we discussed last week, I just covered up half of an open AAPL short inside Market Chess Subscription Services at $110.97. I had entered the trade at $116.57 with a protective cover-stop over $120.
Despite all of the noise out there right now abut The Fed, macro data, sentiment, seasonality, etc., AAPL looks as beholden to its technicals as any chart in the market right now.
On the updated daily chart, below, note the stock trading under declining 200-day, 150-day, and 100-day simple moving averages, generally a warning sign. In addition, the light blue lines denote a potentially massive topping pattern, spanning several quarters.
With no confirmed top yet in place, however, and the stock opening this morning in oversold territory (slicing that lower Bollinger Band), locking in partial gains makes sense, while letting the other part of the trade ride for a potential move down to $105.
Longer-term, if AAPL breaches $105 it could easily signal the start of a much larger move down, which may very well catch the non-technical crowd by surprise, given the widely-known cash hoard the firm has. Still, when the market wants to move, it will move regardless of fundamental considerations.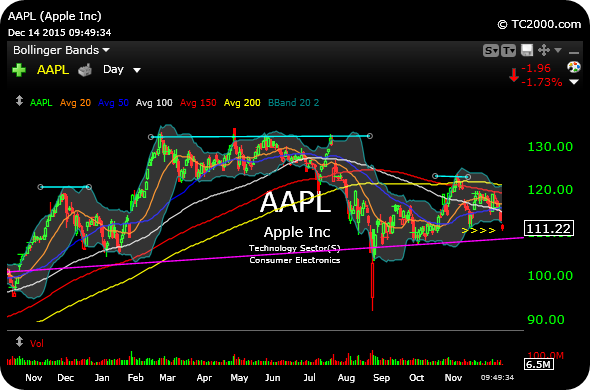 Weekend Overview and Analysi... Maneuvering Around Destructi...