15Dec2:58 pmEST
Ack is off His Back
A nice reprieve for Bill Ackman today, with his VRX up nearly 19%, on news, as I write this.
Nonetheless, the damage still remains, with a confirmed head and shoulders top of the prominent healthcare player.
Clearly, the stock has done its job of punishing just about everyone involved, be it steadfast bulls who failed to take profits into an abnormally-steep multi-year uptrend, and recently Johnny-come-lately shorts are getting squeezed.
Also note this is VRX's first test of its 50-day moving average (dark blue lines) since this whole drama began in September, before it decisively confirmed its multi-year top. So the presumption is that rallies are to be sold, despite how spirited today's appears to be.
Ack is off his back, but is still on the mat and in danger of being pinned.
As for the market's rally, it has a lackadaisical feel to it, with the holidays and angst before the FOMC decision tomorrow likely playing a role.
My UA short, still open and discussed previously on this website, remains viable. I had closed out several other shorts yesterday for Members. But am looking to see if UA can continue to move lower off its own confirmed top.
If the market does rally after the Fed into year-end, I also have my eye on a few tight setups and some contrarian ones, as well.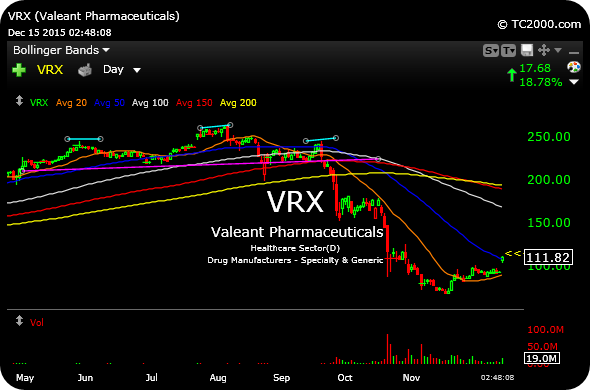 Second Consolidation for the... Stock Market Recap 12/15/15 ...