08Aug10:48 amEST
Explore This Overlooked Segment in Energy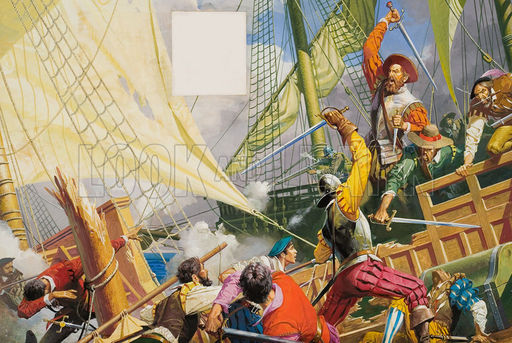 As legend holds, on his way down to Seaside Heights for a weekend full of fist pumping at the club, Giovanni da Verrazano (above, top right) discovered the majority of the eastern coast of America including the Virginia and Delaware Capes, New Jersey, New York Bay, Rhode Island, Narragansett Bay, Massachusetts Bay, and the Maine Coast, for his sponsoring nation of France.
So in the spirit of being an explorer, let's continue to see if the newfound strength in the XOP, ETF for energy exploration/production firms, persists.
We have been noting the potential here for Members since last week, as the XOP actually outperformed XLE at various junctures as crude itself tried to stabilize.
On the weekly XOP chart, below, note the major bottom potential in play now after a monstrous bear market.
Indeed, shorts look to have been caught here and likely need to start scrambling to avoid a further squeeze up and out of the highlighted inverse head and shoulders bottom.
Of course we can expect some violent intraday shakeouts. But the main thing we now want to see if holding onto the lion's share of recent gains as buyers step into any bout of weakness, for that would be the telltale sign of the prior bear being terminated in favor of new beginning and exploring the new world of a resurgent energy market.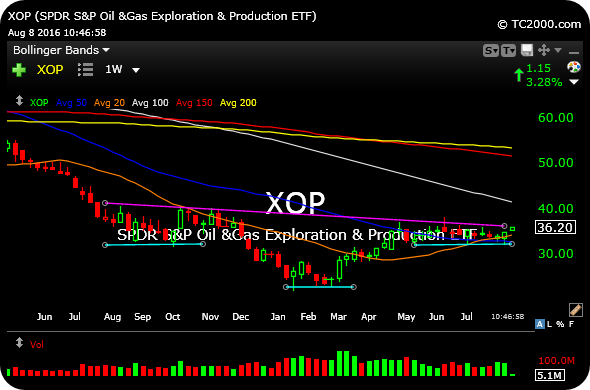 Weekend Overview and Analysi... A Roundabout Way to Get Back