30Oct3:43 pmEST
Miners: Have You a Valediction, Boyo?
Ahead of what figures to be plenty of year-end fireworks in The Fed, in terms of the direction of monetary policy for 2018, precious miners are pretty much at do-or-die levels.
For a while now, their various fits-and-starts has likely frustrated bulls and bears alike, with plenty of mixed signals along the way from which to choose. In other words, gold, silver, and their derivative miners have been the consummate "pick your bias" type of markets in recent quarters, with both sides claiming victory at times. But in the end no one can claim total victory yet.
At the moment, silver miners, using the SIL sector ETF as a proxy, is leaning down against extremely well-defined prior support around $31.40 up through $32 (dating back to 2013, which then turned into resistance in 2014/early-2015, before being reclaimed as support in 2016 and this year).
However, silver bulls would be remiss to grow complacent about support necessarily holding this time around, since the more times support is probed the more tenuous the situation becomes for them.
Despite some individual standouts, like WPM, most precious miners have struggled mightily to hold rallies in recent months. Until that changes, it is tough to become overly excited about a new precious bull run.
Thus, at this point the issue for precious bulls is not proclaiming a new bull market but rather hanging on below, at support, for dear life to prevent a heart-wrenching move lower.
You can be sure the manner in which the market interprets the coming Fed decisions and statements (not to mention jobs numbers and GDP data, among others like CPI/PPI) before 2017 concludes will ultimately tip the scales. Either way, we have our line in the sand off of which to key before precious bulls offer a final valediction.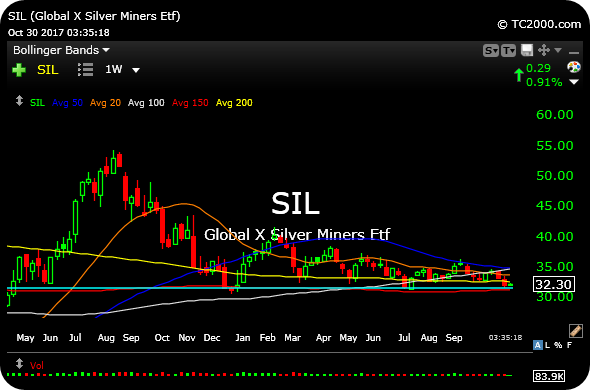 Draining and Straining This ... Stock Market Recap 10/30/17 ...