23Jan10:48 amEST
Dawn of a New Era at Twitter
Although news of Twitter COO Anthony Noto (who has been the number two guy at Twitter since 2014) is leaving to become CEO at finance startup SoFi is initially sending shares of TWTR lower this morning, it may not end up being all that bearish at all.
Recall the massive, unfilled gap below TWTR still has from earnings last October 2017, seen on the daily chart, below.
The longer that gap goes without coming close to being filled the more bullish it becomes for a new bull run underway in Twitter. And the pullback we are seeing over the last seven trading sessions or so would seem to be healthy dips in an uptrend, given the dearth of sell volume and a mere pullback to a rising 50-day simple moving average (dark blue line).
While it is true that the January 12th gap higher could not hold, charts do not always shape up in such a linear way as to make it neat and tidy for eager longs. Indeed, we must adjust to the ebb-and-flow of initial faded breakouts before a true one materializes, a frequent occurrence which this broad market bull run has, perhaps, masked more than usual.
Either way, TWTR has yet to flash any major bearish signals relative to where it came from just before last Halloween. Earnings are coming up February 8th, where I suspect we will get a more clear-cut answer regarding the stock's next big move.
Elsewhere, Netflix is an obvious big winner this morning, while domestic solars like FSLR are fading off the tariff news, which is a bit concerning to see good news sold. It is early, though, and if we see domestic solars rally again this afternoon I am watching SPWR over $9.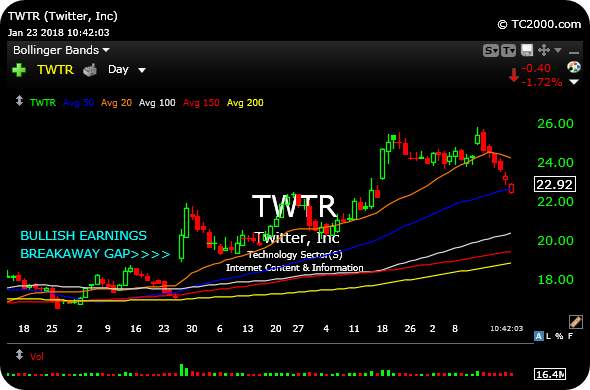 Stock Market Recap 01/22/18 ... Non-Negotiable Facts from Th...