09Aug11:25 amEST
A Certain Beauty in Those Peaks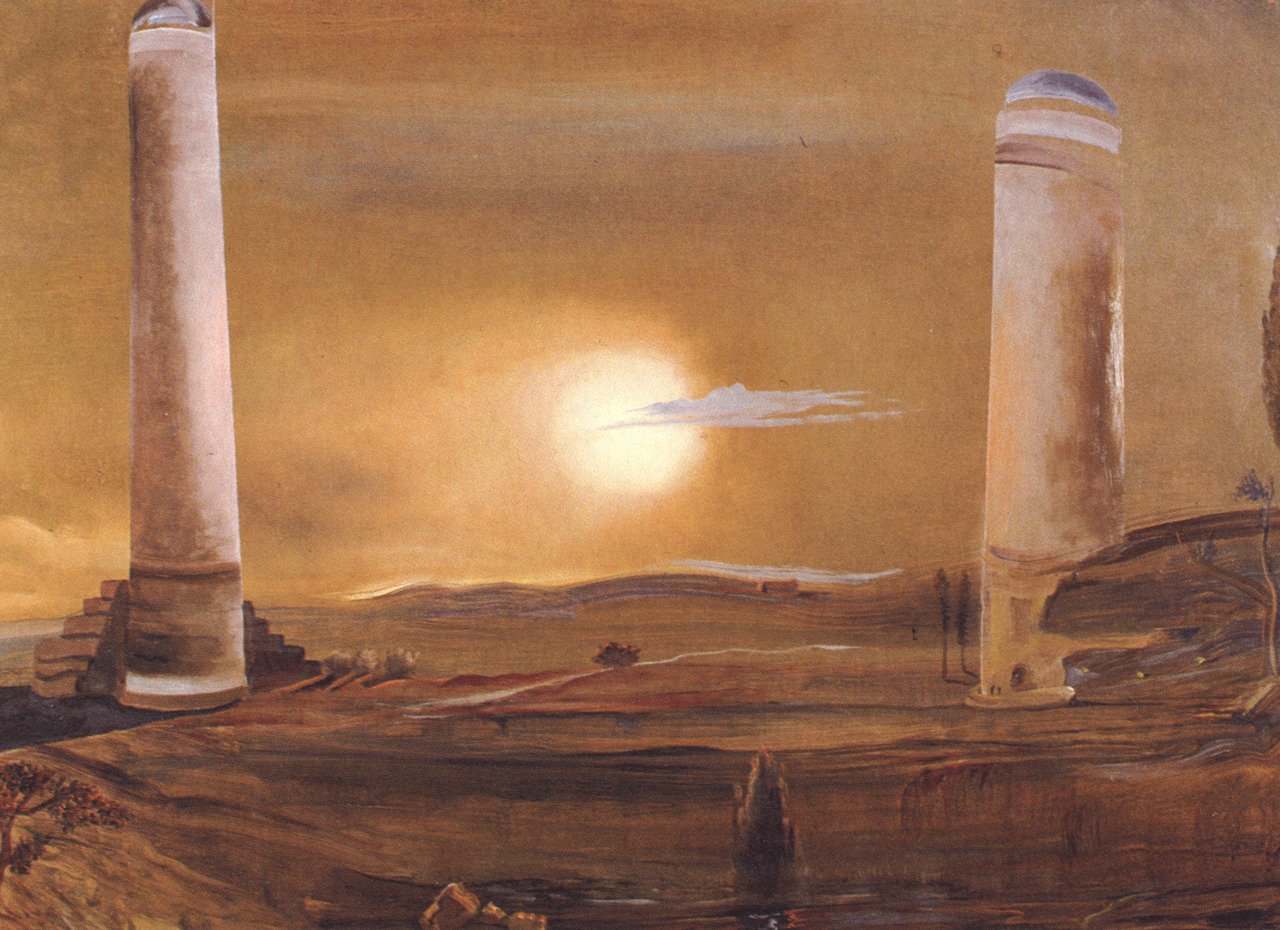 Perhaps the most striking feature of the summer rally in growth stocks alongside the selloff in oil and gas has been how cheered on the growth rally is which was actually exceeded in enthusiasm by how jeered the gasoline prices, oil price, and energy stocks were on the way down.
In other words, most market players absolutely adored the growth stock rally, but also loved seeing energy plays go down.
And, yet, most growth stocks and sectors (not to mention the Nasdaq itself) are still operating below declining 200-day simply moving averages, the essence of a bear trend.
Meanwhile, crude oil, gasoline futures, most energy sector ETFs and stocks, and natural gas (first daily chart, below for the UNG ETF) are still above rising 200-day moving averages even after the correction, the essence of a bull market.
So, what gives?
First and foremost, bear markets tend to bottom on fear, capitulation, then eventually apathy, when no one even cares anymore. With Tom Lee and Cathie Wood, among many others, still out there with a daily drumbeat of bullish prognostications to much fanfare I do not believe we have seen anything close to fear or panic, let alone apathy. So, the pain trade for growth stocks longer-term is still lower.
Energy and commodities may very well be trickier, since fear and panic in equities likely sees large scale liquidations and indiscriminate selling, which means names like CVX and XOM likely get walloped.
But even if that happens I believe they get gobbled up quickly. Over the next decade I expect CVX and XOM to handily outperform virtually all tech, even beloved AAPL AMZN CRM TSLA.
And before we arrive at that moment of panic the pain trade may be higher yet. Politicians have been chest-pounding the post-July 4th dip in gasoline prices. But seasonally they start to turn back higher into autumn now.
Also, natural gas, with its possible double top on the first chart, below, looks more like a bullish cup and handle to me. I have been long GLNG with Members, on the second daily chart, a natty gas infra play. They have earnings on Thursday but you can see the relative strength today and of late with a coiled pattern. If the oil and gas run were truly over I doubt you would see a play like GLNG act as well as it has, alongside UNG itself easily holding far above a rising 200-day.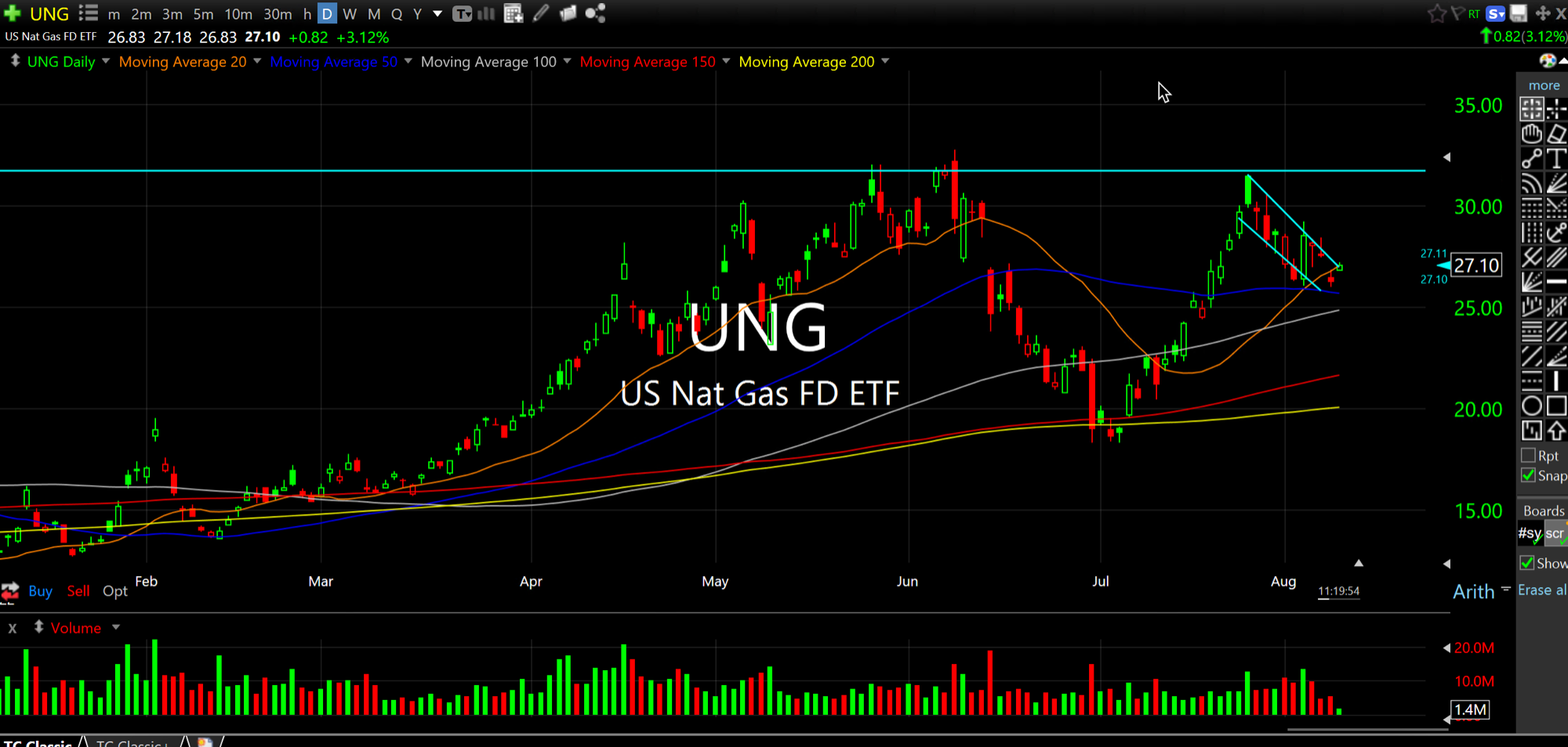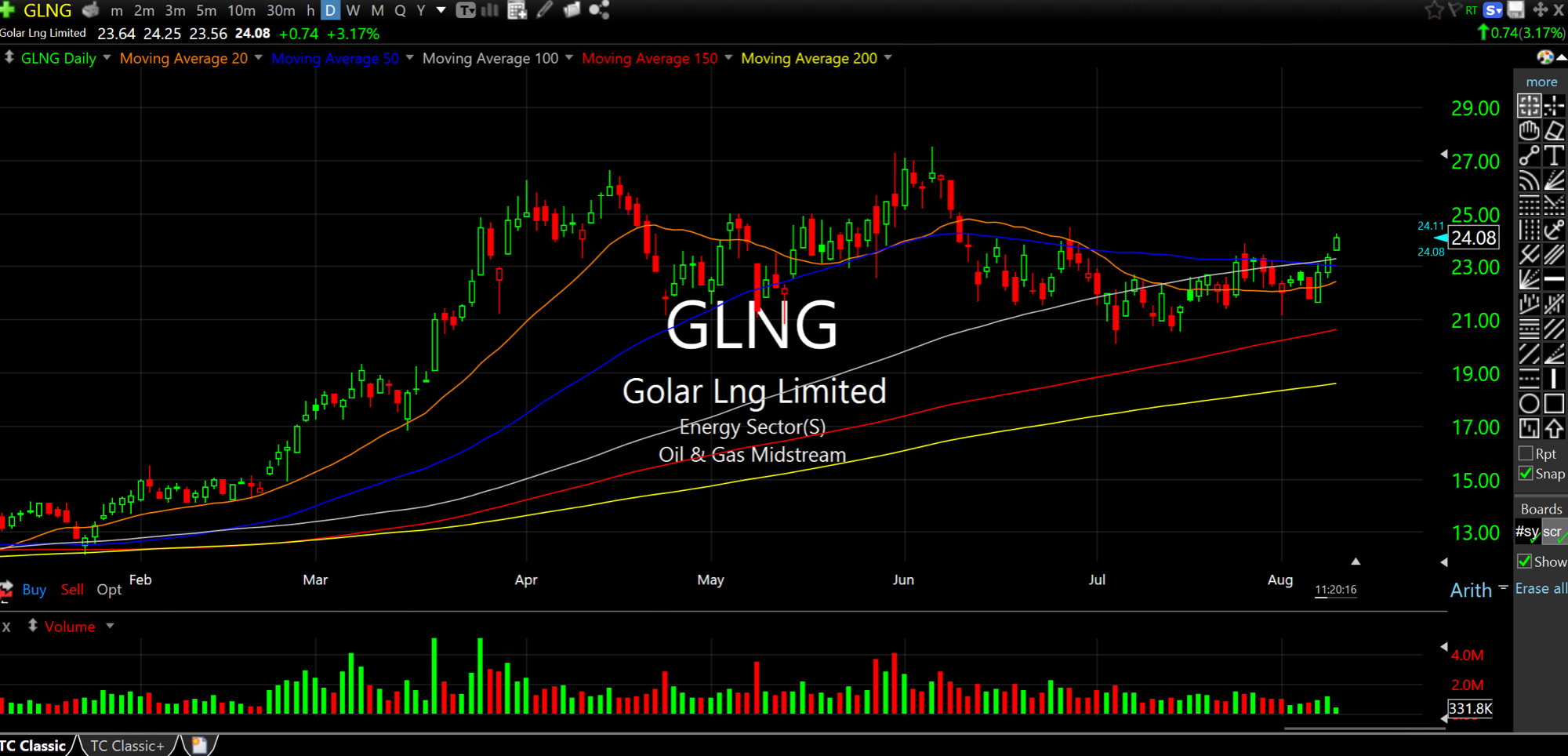 This Silly Summer Chase is a... It All Comes Down to the Ame...