17Aug11:16 amEST
Summer 2022: When Looming Risks Were Miscalculated
It is my deep conviction that we will look back on this summer as one where the market was burying its collective head in the sand at the imminent and and longer-term risks facing the world economy.
First and foremost the imminent Fed dovish pivot is nonsense. As soft as Powell has been the past the CPI is still historically high and not collapsing--Far from it, actually, if oil prices firm up and follow natural gas higher. At best, Powell may slow the pace of the hikes. However, the BBBY (and FUBO, and others) meme stock squeeze party of late is not likely helping the cause.
Powell's legacy is on the line now, especially since he already made his money and "saved the world" with his emergence measures back in March 2020 and had books written about his heroic acts since. So ask yourself, would that person, already having been praised by the elites and already having made his own wealth, focus on anything other than his legacy at this point? Part of that legacy will include The Fed's credibility itself. And as clueless as many Fedheads have been over the years, even Neel Kashkari has been talking a strongly hawkish game this year.
Simply put, with the S&P having pushed over 4300 this week The Fed has the perfect cover to throw down the gauntlet in the Minutes later today (if they edit/proofread them before release--wink, wink) and then in Powell's comments in over a week at Jackson Hole.
The other miscalculation the markets made this summer is in regard to commodity supply issues, which we know with Europe and natural gas is an increasingly serious problem for the colder weather coming soon. Offshore drillers, like RIG, below on the daily chart, are still setting up bullish patterns to my eye. Soft commodities are also featuring bullish supply dynamics, be it coffee, corn, or beans.
Overall, the markets have spent the summer laughing off supply-driven inflationary pressures and also have clowned The Fed's hawkish talk at each and every juncture. As seasonality turns bearish from now through about Halloween we will see if market players are still in a laughing mood when reality sets in and Powell renders any dovish pivot talk a mere fantasy harkening back to last decade and then the pandemic.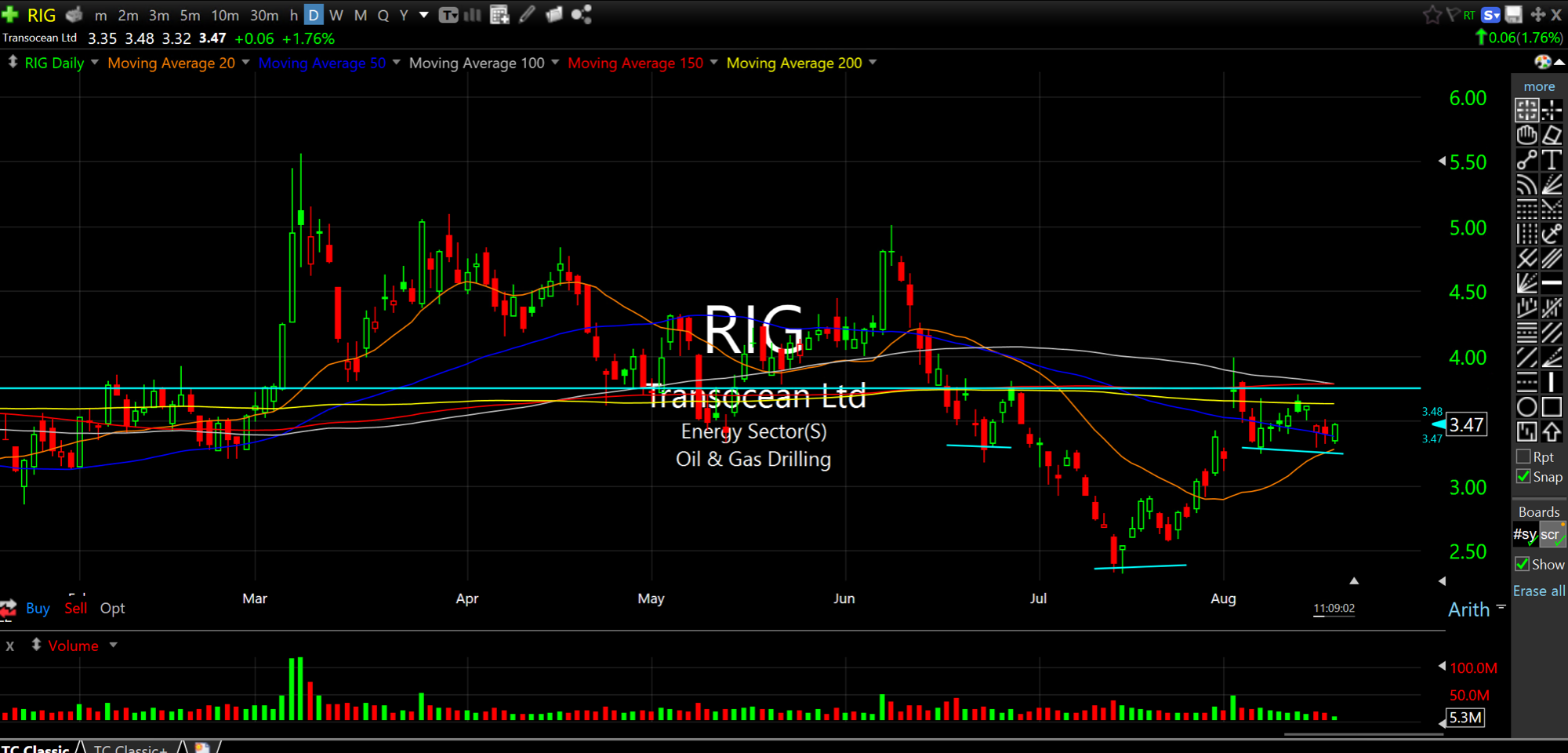 Stock Market Recap 08/16/22 ... An Economic (Not Political) ...