16Apr2:38 pmEST
Once You Go Ack, You Never Go Back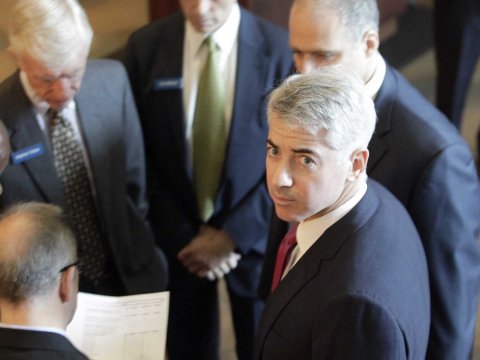 As the Herbalife saga continues, it is interesting to see the long-term chart responding to plain vanilla technical analysis.
Specifically, on the monthly chart, first below, not much has changed since I posted it over the winter on Stocktwits. Just as stock responded to prior highs (upper light blue line) after enjoying a vicious squeeze where Carl Icahn seemingly reinforced his legendary reputation as the expense of The Cincinnati Kid Bill Ackman, it is now responding to prior lows after a sharp swoon where Ackman silenced his vocal critics.
Of course, the major long-term levels eliciting a response from price need not mean a major top nor confirmed bottom, but rather a bit of a reprieve from the prior trend, as a starting off point.
But when we look at the updated daily chart, second below, note the Bollinger Bands pinched in (meaning a large directional move is now likely) after a fairly orderly consolidation along the 200-day moving average (yellow line).
A move over $45.60 now could easily see the numerous shorts in the name scramble as the stock stages a secondary rally off recent lows in what is still a large, loose and sloppy range where hedge fund titans push their money back and forth to each other across the poker table.