16Jan12:32 pmEST
Trade Review: Adjusting to This Type of Market
Last Wednesday, January 10th, inside Market Chess Subscription Services I went long the mid-cap biotechnology stock, Bluebird bio.
Here was the text and email alert I sent out after my tweet to clients:
TRADE: New Long BLUE @ $171.40 Stop: $160 Target: $190. 2% Size. Mid-cap bios get rotation. Oversold at 50-day m.a.
Last Friday, however, I had a change of heart as I saw BLUE continue to lag the market and fail to sustain a powerful off its 50-day moving average, as I had positioned.
I therefore decided to sell out of my BLUE at $171.07 for a less than 1% loss before the long weekend.
Here was my note to Members after the sale: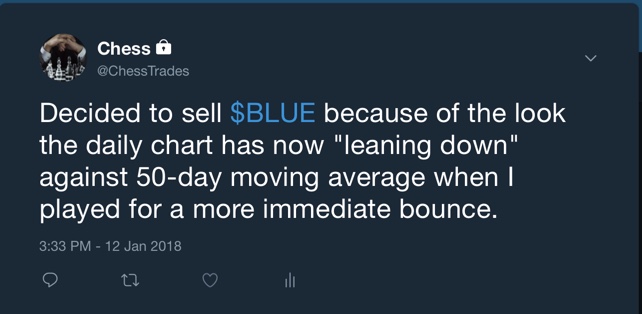 Now, given that this market is essentially in melt-up mode, I could easily write a blog post about a winning trade.
However, I view this BLUE trade as perhaps more instructive in terms of adjusting to the current tape.
Specifically, I am referring to the notion of cutting any longs at this phase in the rally which simply do not sit particularly well with you. In fact, I would argue you should hold your longs to a higher standard at this point in time, with the major averages gapping up daily and rather extended.
True, there remain intriguing, non-extended long setups, such as the ZAYO example we have been using.
But when it comes to the inevitable laggards into any rally, we ought not become sloppy even if appears as though the market will be forgiving in perpetuity.
As you can see today, BLUE is following-through lower after "leaning" on its 50-day m.a. a bit more than desired last week as it lagged.
Another aspect of this trade is that BLUE has generally been a great name to trade in bios dating back several years now. However, that type of nostalgia often clouds objectivity and should generally be eschewed.
Going forward in the very near-term, it will likely be correct as traders to tighten up just when many are beginning to loosen up with a rip-roaring bull market. To be clear, the intermediate-term still features many promising breakout plays we have noted. However, that ought not be used as a crutch for underperforming issues which are not quite up to snuff.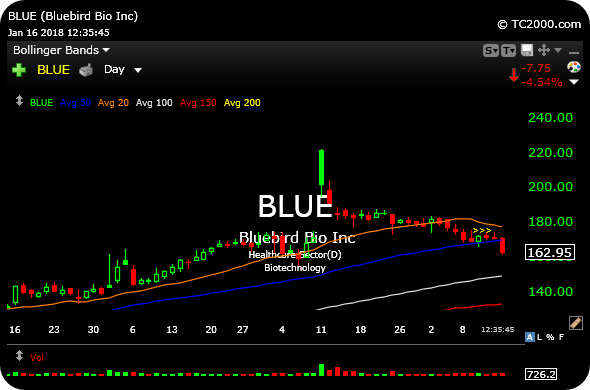 Tesla Part of the Background... A Straight Hustle if I've Ev...